2014 KTM 450 SX-F
The KTM 450 SX-F is a practical off roader built with versatility in mind. The bike is propelled by a 1 cylinder 4 Stroke, water cooled, 449.3 Cm³ (27.418 Cu In) engine which sends its power to the rear wheel through a 5 gear, claw shifted transmission. The engine is fed by a new, lightweight polythene tank with a capacity of 1.98 gallons.
All components are mounted on a modern frame made of lightweight, high strength chromoly steel sections that offers a perfect mix compromise between longitudinal stiffness with torsional rigidity.
As far as suspensions are concerned, the 2014 KTM 450 SX-F is equipped with a front WP Suspension up side down fork (4860 MXMA CC) and a rear WP Suspension shock absorber (5018 BAVP DCC).
The 2014 KTM 450 SX-F is offered with a base price of $8,999.
Overview
Power For All!
With the 450 SX-F, the KTM range offers a winner bike that draws potential from a large-displacement engine and a chassis perfectly tuned to handling its raw power. Ryan Dungey has used it to win the AMA 450 Motocross Championship and saw absolutely no reason to change bikes in order to defend his title. No wonder, as the compact SOHC engine with the groundbreaking injection technology guarantees brute but highly controllable power. Among the large 4-strokes, the 450 SX-F scores mainly with its performance and agility. It is the right choice for every motocross rider loking for torque and power with lots of control for racing.
Unrivalled Handling:
Wheels
The wheels use lighweight, cnc-machined hubs, high-end excel rims and spokes coated in black with lightweight aluminum nipples to achieve maximum stability at minimum weight. The oemdunlopgeomax mx51 tires deliver perfect traction and outstanding performance.
Brakes
High-tech brembo brakes have always been standard equipment on ktm offroad bikes. Combined with the lightweight wave discs, they are the ultimate solution in braking technology. The sx models gain a newly-developed master cylinder with a new reservoir, a smaller piston diameter and optimized lever kinematics. Combined with optimized brake pads, this makes for another perceptible improvement of front brake performance and action.
Professional Performance Potential:
Pistons
Inside the cylinder with a bore of 95mm, an extremely lightweight bridged-box-type piston delivers a major contribution to the engine's low vibrations and engine-speed strength. The compression ratio is 12.6:1. Optimized for 2013, a new piston pin delivers more durability.
Cylinder head
Inside the 450 sx-f engine's cylinder head, an overhead camshaft controls four ultra-lightweight titanium valves via extremely rigid rocker arms which are dlc-coated on the intake side. This configuration allows engine speeds up to 11,500rpm, a major contribution to the unique performance of the large displacement ktm engine. In 2013, a new three-layer head gasket is used that guarantees more durability under the most extreme conditions. In addition, the camshaft has received a strengthenend auto-decompression mechanism.
Crankshaft
The 450 sx-f's crankshaft employs a plain big end bearing. Two force-fitted bearing shells run directly on the crank pin. The necessary oil feed for this bearing is ensured by the engine's pressure lubrication. This design is a major prerequisite for the extremely high engine speed levels and unrivaled maximum power of the 450cc engine. Another decisive customer benefit is the crankshaft service interval which can be lengthened due to the plain bearing.
Transmission
For 2014, ktm has optimized its gear tooth geometry to provide customers with a lightweight 5-speed gear box with increased durability.
Clutch
The 450 sx-f employs the ktm-developed dds (damped diaphragm steel) clutch with a wear-free steel basket and extremely heat resistant clutch plates. This design is distinguished by employing a diaphragm spring instead of the usual coil springs, which makes for a considerably easier clutch action. Strengthened for 2013, the diaphragm spring also leaves sufficient space for a damping sytem integrated into the clutch hub, which benefits both traction and durability. A stronger inner hub further increases stability. The hydraulic brembo clutch mechanism with a new master cylinder guarantees a light operation and highly controllable modulation of the clutch.
Engine management system (ems)
In combination with the revolutionary injector position as developed by ktm, the keihin engine management system, with electronic fuel injection and 44mm throttle body provides the engine with a spontaneous response and maximum performance. For 2014, the wiring harness of the 450 sx-f has been further simplified and even higher quality wires and connectors are used. In order to protect them against pressure washers, many connectors are now enclosed in new rubber boots. With an optional map-select switch from the ktmpowerparts program, ems continues to allow selecting different engine characteristics. In addition, the optional user-setting tool allows to readout engine data with a laptop and change the ignition and injection mappings with a few mouse clicks.
Counter balance shaft
The side-mounted counter balance shaft also drives the water pump. Thanks to the perfect mass balancing and the power plant's low total oscillating masses, engine vibrations can be kept to a minimum even at the highest engine speeds.
Crankcase
The die-cast crankcase has been further developed by removing the kickstarter dome to achieve a weight reduction compared to its predecessor.
Electric starter
The 450 sx-f is fitted with an electric starter as standard – a clear advantage when it comes to crunch time in the heat of battle. In 2014, a newly-developed freewheel assembly is used to increase durability.
Engine
The compact 60hp power pack with a single overhead camshaft and the latest electronic fuel injection is distinguished by unrivaled performance and a highly efficient power delivery. Thanks to a revised crankscase, the weight is reduced for 2014.
Top Ergonomics:
Bodywork
In shaping the bodywork, the ktm designers' ergonomic and design focus was to achieve complete harmony between rider and bike, down to the finest details. The front fender is a prime example of a moulded polymer component gaining maximum stability through a well thought-out structure and mounting.
Seat
Ergonomically perfect, the seat has received an improved foam core, ensuring greater comfort and durability.
Fuel tank
All models of the sx range have a new, lightweight polythene tank with a capacity of 1.98 gallons. The new filler cap with the inside thread makes for an easier and reliable closure. The 4-stroke models have the same fuel pump system as the 4-stroke enduro models, which makes it easy to fit a larger tank from the powerparts program.
Graphics
New classy graphics with clear lines visually underscore the exacting standards of what ktm deems a true, cutting-edge motocross bike.
Handlebar
All sx models are fitted with the super strong, tapered renthalfatbar 827 whose bend is especially well suited for the requirements of motocross. The proven standard ktm mount allows to fix the handlebar in four different positions. A large renthal crash pad in a classy combination of black and silver, offers effective crash protection for the rider.
Air box
The airbox design offers maximum protection of the air filter against soiling while ensuring maximum airflow for top performance. The twin air filter can be changed without tools in seconds, a standard for ktm.
Superior Chassis:
Frame
The state-of-the-art frame design made of lightweight, high-strength chromoly steel sections combines maximum longitudinal stiffness with optimum torsional rigidity. It guarantees easy handling and precise cornering, but also outstanding stability.
Suspension/damping
The rear monoshock as well as the 48mm upside-down front fork by wp suspension guarantee the best response and damping characteristics. In 2014, the fork has more reserves against bottoming out thanks to their optimized setting. Of course, compression and rebound damping can be adjusted to the track conditions and the rider's preferences with a twist of the wrist – the rear monoshock even has separate high and low speed adjustments.
Triple clamps
Top-quality, cnc-machined triple clamps have been something of a ktm trademark. Ensuring a precise handling, they perceptibly support the flex characteristics, and with it, the fork's action.
Swingarm
Designed using the latest in calculation and simulation software, the design and wall thickness of the cast aluminum swingarm have been optimized for minimum weight at optimum stiffness and precisely defined flexibility provides perfect stability at minimum weight. For 2014, the engineers have revised the chain guide to increase reliability while lowering the weight.
Exhaust system
The new 450 sx-f's optimized silencer achieves outstanding performance at low noise levels.
FIRST AND FOREMOST, IS THE 2014 KTM 450SXF BETTER THAN THE 2013 450SXF?
A: Yes, but much of the credit for the improvements goes to homegrown solutions that KTM implemented.
Q: WHAT ARE THE HOMEGROWN SOLUTIONS THAT KTM PUT INTO THE 2014 MODEL?
A: Homegrown solutions are the ideas and concepts developed by local racers, hardcore KTM owners and the race teams. Here is the list.
(1) Gearing. Previous KTM 450SXFs came with 14/52 gearing. Most racers went to 14/53, but early in 2013, in an effort to get more low-to-mid oomph, there was a universal swap to 13/50, which is lower than 14/53. Just before the 2014 models were released, the Ryan Dungey Replica came with 13/50 gearing, signaling that the 2014 model would follow suit?although Ryan Dungey himself tends to favor 13/51.

(2) Clutch spring. MXA has harped on KTM's engineers since the introduction of the Belleville washer clutch. We wanted more tension, so in 2012, MXA borrowed the stiffer clutch spring out of Ryan Dungey's race bike. It was an instant improvement to an already good clutch. The latest Ryan Dungey Replica came with the 280 Nm clutch spring instead of the 250 Nm spring on the stock 2013 KTM 450SXFs. For 2014, all the 450SXFs have the stiffer clutch spring.
(3) Muffler. Last year's KTM mufflers were odd ducks. Each model's muffler was different. The 250SXF muffler was 40mm shorter and had a wire screen; the 350SXF muffler had an inverted, perforated cone in the muffler; and the 450SXF had two perforated cones in its muffler. MXA learned early on that using the shorter, less-restrictive 250SXF muffler improved throttle response and bark (without drastically increasing the sound). For 2014, all three KTM four-strokes come with the 250SXF muffler (40mm shorter and with a wire screen only).

2014 KTM 450SXF: Although it looks mildly updated on the spec sheet, KTM's engineers put a lot of thought into upgrading the 2014 model. Now, if KTM's suspension designers would work a little harder then everything would be hunky-dory.
Q: WHAT HOMEGROWN SOLUTIONS DID KTM FORGET TO PUT IN THE 2014 MODEL?
A: Local racers learn by experience?trial and KTM's errors. Here are the mods they wish KTM would have borrowed from their modified bikes.

Spokes. In truth, there is nothing wrong with KTM's spokes; it is the rims that are suspect. Never go to the starting line without checking the spokes, especially the spoke next to the rear rim lock. Odds are good that it will be loose. If you don't want to risk wheel failure, you can lace up the existing spokes and hubs to Excel A60 or D.I.D. rims.

Preload ring. It seems as though KTM keeps spec'ing their flawed nylon shock preload ring in spite of the fact that it was a bad idea that hasn't gotten any better with time. When you crank the preload down on the shock spring, the nylon threads deform and seize the ring in place.

Shift lever.When the shift lever is in the stock position, it is too low, and when you move it up one notch, it is too high. We place our shift levers between two blocks on a hydraulic press and bow the middle of the shift lever to raise the tip.

Package deal: Every aspect of this engine is awesome.
Air filter. Never stick the air filter into the airbox without double-checking to make sure that the filter's back edge is sealed against the intake tract. This would be easy to fix at the factory, with a more distinctively shaped filter or a lip on the back side to notch the filter cage into.
Shift shaft. Unlike on a Japanese-built bike, KTM's shift lever is slipped onto a tapered spline with a bolt holding it at the end of the shaft. This creates several problems. First, the tapered shift shaft gets smaller as it moves outward, which means that if the shift lever does get loose, it is on a downhill run to falling off. Second, with the bolt at the end of the tapered shaft, the rotational inertia of every downshift puts a torque load on the shift shaft, which loosens the shift-shaft bolt. Honda, Yamaha, Suzuki and Kawasaki use a straight-splined shaft with the bolt in a notch in the shift shaft. Because the bolt is at a 90-degree angle, the shift lever cannot fall off unless the shift-lever bolt falls out.

Tight: The 450SXF works best when balanced front and rear.
Q: WHAT OTHER CHANGES DID KTM MAKE TO THE 2014 ENGINE?
A: For 2014, KTM made eight changes. None of them are major, but they all add durability or usability to the powerplant.
(1) Engine cases. The 2014 center and right-side cases have had the kickstarter bosses removed. Since KTM didn't mount a manual kickstarter on the 450SXF, the cases were doing double duty on both the SFX and EXC models (the EXCs have electric start and a kickstarter). Eliminating the bulge in the SXF cases saved 300 grams.

(2) Head gasket . KTM upgraded the sealing surfaces of the head gasket to lessen the possibility of a head-gasket leak. The new, three-layer gasket can take higher temps without faltering.
(3) Camshafts. Although the cam profiles and lifts are unchanged, the cams themselves have been lightened to lessen rotational inertia and pep up the throttle response. In addition, the auto-decompression release's actuating arm has been beefed up.
(4) Piston pin. There were some issues with the previous piston circlips, so for 2014 the piston pin has been reshaped on the end to help keep the circlips seated.
(5) Clutch hub. The inner clutch hub has been beefed up, and, as previously stated, the Belleville washer is stiffer: 280Nm versus 250Nm.

Nylon preload: It tests our patience. 
(6) Transmission. Although the transmission and gear ratios remain the same as in 2013, the profile of each gear has a new tooth geometry and finishing process to lessen nicking and gouging of the tooth ends.
(7) Mapping. The electronics for the fuel injection have been changed at the enigma level. The settings cannot be altered with the KTM programming tool or the three-way ignition maps. These super-secret enigma settings control the BOI (Beginning Of Injection), temperature sensors, and other unfathomable dots and dashes.
(8) Wiring harness. For the third year in a row, KTM upgraded the quality of the wire, connectors and rubber boots. The wiring harness itself is shorter and rearranged into a more compact unit.

Triple threat: For 2014, every KTM four-stroke runs last year's 250SXF muffler.
Q: DID KTM CHANGE ANYTHING ELSE ON THE 2014 450SXF?
A: For a bike that isn't changed very much, KTM did crank out a large number of mods.
(1) Water pump. In the past, we had issues with the water-pump seal leaking. For 2014, KTM has redesigned the cover with a deeper O-ring groove and a thicker O-ring. The 2014 water-pump cover will retrofit on older KTM 450SXFs, but only if you use the new O-ring.
(2) Seat foam. The foam core of the saddle has been reformulated to be softer initially, but not break down as quickly as the weak sisters that we've been sitting on for the last few years. We wish!
(3) Chain guide. The slightly smaller chain guide on the swingarm is 120 grams lighter.
(4) Gas cap. The internal threads on the gas cap have been reworked for more positive engagement, and the gas cap has a new low-profile shape; it doesn't stick up as high as last year's cap.
(5) Front brake. Last year it had a black reservoir and silver cap. For 2014, it has a silver reservoir and a black cap. This is just cosmetic fluff, but there are substantial changes in the lever and master-cylinder piston. The master-cylinder piston has been downsized from 10mm to 9mm.
Q: WHAT IS THE MOST SIGNIFICANT FEATURE OF THE 2014 KTM 450SXF?
A: It is definitely the powerband. KTM has dialed in the exact kind of power that the typical KTM 450SXF owner needs and wants. The powerband doesn't have the brutal rush of the KX450F, but it can easily run with the KX450F. Plus, because of the way the power is delivered, it seems to pull twice as long as other 450s. This is the everyman 450 powerband: easy to ride down low so that it doesn't scare you, and then faster and faster as you hold it on.

Ground control:?It is rare that one bike is endowed with the best starting, shifting, brakes, clutch, powerband and ergos. The KTM is just such a bike?but it needs better suspension components to move it up in the rankings.

Q: HOW DOES THE 2014 450SXF RUN ON THE DYNO?
A: What we are going to tell you will be shocking. The KTM 450SXF is no longer the horsepower king of the 450 class. The 2014 Yamaha YZ450F has 58.17 horsepower compared to the KTM 450SXF's 56.95 horsepower. The 2014 horsepower numbers are nothing to sneeze at, however, since they still beat the KX450F, RM-Z450 and CRF450 numbers.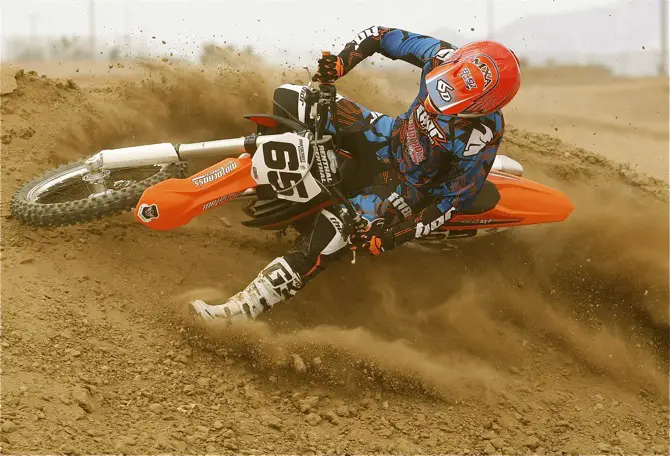 Easy rider: The broad powerband allows the rider to play with the oomph.
Q: WHAT WOULD WE CHANGE ABOUT THE POWERBAND?
A: The 2014 KTM 450SXF engine is deceivingly fast. It starts out mellow and builds its power with rheostat consistency. The power allows you to go fast without the bike feeling fast. It tricks you into going fast by making it seem easy to do.
But, we have always wanted a stronger transition from low to mid. We want it to hit harder. Last year, we built a special airboot using 350SXF and 450SXF parts to mimic Ryan Dungey's factory airboot. We opted to run a 94 dB exhaust system from DR.D that was built specifically to punch up the midrange, and we geared it down from 14/52 (a 3.714 ratio) to 13/50 (a 3.846 ratio), approximately 1-1/2 teeth lower than the then-stock 14/52.
For 2014, we can still use our hybrid airboot and midrange exhaust, but the bike now comes stock with our favorite gearing. Our Pro test riders simply copied Ryan Dungey's 13/51 (a 3.92 ratio) gearing to get more drive, helped by the fact that they were fast enough to pull third gear all the time. Our Vet and Novice test riders were split on switching to the 51-tooth sprocket, partially because they aren't as fast as Ryan Dungey, but mostly because they like the steady and progressive power delivery of the 50-toother.
Q: HOW DOES THE 2014 450SXF HANDLE?
A: When this bike is set up right, it is amazing. Once you work on the front-to-rear balance to get the chassis as flat as possible, it can be flicked through turns without any excess steering input. A Suzuki may turn sharper, but it shakes at speed. The KTM is the best of all worlds. It corners accurately, tracks through the rough stuff with nary a wiggle and doesn't shake at speed.
The caveat remains, however, that you have to fiddle with the fork height and the race sag to find the perfect window. Small adjustments to either end change the head angle, weight bias and feel of the bike.
Q: WHAT IS THE TRUTH ABOUT THE WP SUSPENSION?
A: KTM made some mild damping adjustments to the low-speed compression and rebound on the 2014 forks, but this is a band-aid on a mortal wound. It seems obvious to MXA that KTM tuned its suspension settings for Vet riders. In the past, we would have said that they tuned them for European riders, but the American-spec WP suspension is much stiffer than the Euro-spec stuff, which makes us wonder how bad it must be to ride this bike in Barcelona.
KTM has focused on the biggest group of 450SXF buyers?older, richer and heavier slow guys. The WP forks and shock are good for a certain speed and rider weight. Not great, but good. Any rider under KTM's target weight or over the target speed is in trouble. When we switched from Novice and Vet test riders to Pros, they bottomed the suspension. And since the 0.50 kg/mm fork springs are freight-liner stiff, this points to insufficient damping (front and rear)
Q: WHAT DID WE HATE?
A: The hate list:
(1) Shock preload ring. "Hate" is too nice a word. Does "hassen" sound better?
(2) Weight. It is lighter than last year, but it is still too heavy (although not the heaviest 450).
(3) Suspension. If we were KTM and were so close to winning every 450 shootout ever printed except that our suspension kept nixing the deal, we'd put more effort into fixing the Katoom's biggest flaw.
Q: WHAT DID WE LIKE?
A: The like list:
(1) The bike. This bike has the best all-around handling, best brakes, best clutch, best shifting, best overall powerband, an electric starter, no-tools airbox and good durability. Other brands might have better suspension, more focused power or weigh less, but no brand has as many superlatives as KTM.
(2) Plain bearings. Much like the old-school bronze bushings used on road racers, KTM's plain bearings are good engineering.
(3) Hydraulic clutch. The best clutch in motocross just got better with the addition of the stiffer Belleville washer.
(4) Brakes. Kawasaki, Honda, Yamaha and Suzuki should be ashamed.
Q: WHAT DO WE REALLY THINK?
A: This is the greatest four-fifths of a motocross bike ever built. It is missing the one piece of the puzzle that would make it untouchable?and that is a puzzlement. If you are a Pro who knows a suspension tuner with KTM experience or are part of KTM's target audience, this bike is a winner.

  MXA'S 2014 KTM 450SXF SETUP SPECS           
This is how we set up our KTM 450SXF for racing. We offer it as a guide to help you find your own sweet spot.
WP FORK SETTINGS
The 2014 KTM 450SFX suspension works best at Vet speed. Any faster than that and it is quickly over-stressed. We have lived with these forks for many years without seeing any significant improvement in their damping. We originally blamed it on the Dutch, but a few years ago KTM moved the WP facility to Austria (and got the Dutch off the hook). It is true that KTM upped the compression damping for 2014, but that was just a baby step in the direction they need to go. We would bite the bullet and send these forks to MX-Tech, MX1 or Pro Circuit. For hardcore racing, we recommend this fork setup on the 2014 KTM 450SXF (stock specs are in parentheses):
   Spring rate: 0.50 kg/mm
   Oil height: 390cc
   Compression: 9 clicks out (12 clicks out)
   Rebound: 12 clicks out
   Fork-leg height: 5mm up
   Notes: If you are looking for plusher forks, lower the oil height by 10cc to 380cc. If you are faster and looking for firmer forks, raise the oil height by 10cc or 20cc (400cc or 410cc). The clickers cannot iron out the issues that Pro riders will have with these forks.
WP SHOCK SETTINGS
The shock is considerably better than the forks, but when one end of a bike doesn't work, it transfers the bulk of the load to the other end. Until you get the forks to absorb everything thrown at them, the shock will continue to suffer. For hardcore racing, we recommend this shock setup for the 2014 KTM 450SXF (stock specs are in parentheses):
   Spring rate: 5.7 kg/mm
   Race sag: 100mm (105mm)
   Hi-compression: 1-1/2 turns out (2 turns out)
   Lo-compression: 12 clicks out
   Rebound: 15 clicks out
   Notes: We don't think the average 450SXF rider will need a stiffer shock spring, unless he is over 200 pounds. Smaller riders can live with the stock spring by turning the compression clicker out.
Specifications
| | |
| --- | --- |
| Engine type | 1-cylinder 4-stroke engine, water-cooled |
| Displacement | 449.3 cm³ (27.418 cu in) |
| Bore | 95 mm (3.74 in) |
| Stroke | 63.4 mm (2.496 in) |
| Starting aid | Electric starter |
| Gearbox | 5-gear, claw shifted |
| Engine lubrication | Pressure circulation lubrication with two Eaton pumps |
| Primary transmission | 32:76 |
| Secondary gear ratio | 14:50 |
| Cooling | Water cooling, permanent circulation of coolant by water pump |
| Clutch | DDS Multidisc clutch in oil bath/hydraulically activated |
| Ignition | Contactless controlled fully electronic ignition with digital ignition adjustment |
| Frame | Central tube frame made of chrome molybdenum steel tubing |
| Fork | WP Suspension Up Side Down 4860 MXMA CC |
| Shock absorber | WP Suspension 5018 BAVP DCC |
| Suspension travel Front | 300 mm (11.81 in) |
| Suspension travel Rear | 317 mm (12.48 in) |
| Brake system | Disc brakes, brake calipers on floating bearings |
| Brake discs – diameter Front | 260 mm (10.24 in) |
| Brake discs – diameter Rear | 220 mm (8.66 in) |
| Chain | 5/8 x 1/4″ |
| Steering head angle | 63.5° |
| Wheelbase | 1,495±10 mm (58.86±0.39 in) |
| Ground clearance, unloaded | 371 mm (14.61 in) |
| Seat height, unloaded | 992 mm (39.06 in) |
| Total fuel tank capacity, approx. | 7.5 l (1.98 US gal) Super unleaded (ROZ 95/RON 95/PON 91) |
| Weight without fuel, approx. | 107.3 kg (236.6 lb.) |
| Price | $8,999 |
Verdict
The KTM 450 SX-F continues to be one of the most capable off-roaders in its class. Although it didn't receive any major upgrades for 2014, the bike is slightly better than its predecessor. It handles better, it has a modern fuel tank, retuned suspensions and is also more than capable to deal with anything you ask of it.