Casio AP260 Celviano 88-Key Digital Piano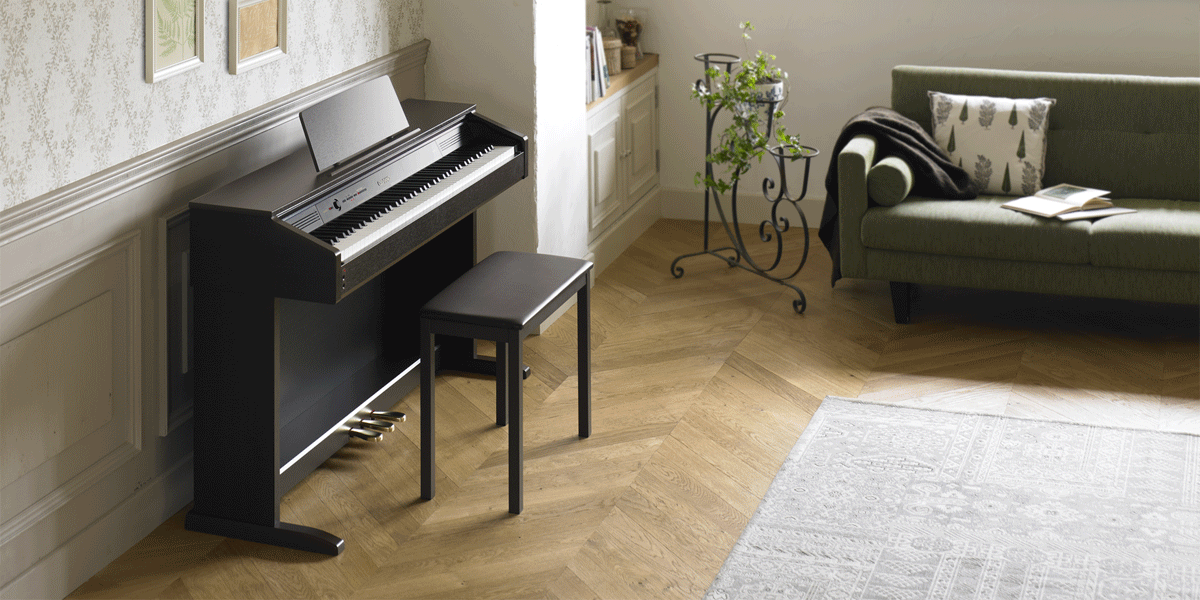 CELVIANO
The Celviano line of pianos has been refined for those who demand an authentic grand piano experience. The new AP-260's traditional design houses new stereo grand piano sounds and redesigned keyboard action. Utilizing a new tri-sensor spring-less 88 note scaled hammer action, every nuance and detail of your performance is captured. A new 4 layer stereo grand piano sound is delivers a natural, expressive and dynamic piano experience.


PIANO SOUND

The grand piano sounds in the AP-260 deliver an unprecedented level of realism and expression. Four dynamic levels of stereo piano samples are integrated with Casio's proprietary Linear Morphing System, for a grand piano sound with seamless transitions and a superior dynamic range. For added realism, the AP-260 simulates the sound of open strings when the dampers are raised by the pedal using Acoustic Resonance DSP.

EDUCATION FEATURES

The AP-260 features a total of 18 built-in tones, with the ability to layer two sounds or split the keyboard to allow a bass sound in the left hand. It has a built-in library of 60 songs that can be practiced at any tempo utilizing the dual headphone outputs or the internal speaker system. Celviano's Duet Mode allows student and teacher to practice at the keyboard simultaneously.

ADVANCED TECHNOLOGY

To complete the piano experience, the AP-260 features128 notes of polyphony, enough horsepower to the most demanding musical passages and the ability to layer sounds and use the damper pedal without worry of dropped notes. In addition the AP-260 can connect effortlessly to your computer via USB without the need to install drivers.

CONCERT PLAY

High-quality audio data recordings of 10 live orchestra performances are installed. Pianists can play along with recordings and enjoy the feeling of participating in a magnificent performance. Musical scores of the concerts are bundled.
POWERED BY AIR
Casio's new AiR technology, redefines the Celviano digital piano experience with richer and more genuine sounds. The AiR sound source enables the new Celviano models to deliver first-class realism and detail by providing damper resonance, which enhances the sounds of the dampers lifting off the strings when pushing on the sustain petal. Casio's AiR technology also compensates for the speed at which hammers strike strings at different velocities and key ranges, imperative for those who crave the authentic sounds and feel of a traditional grand piano.
USB MIDI
Casio continues the tradition or providing "class compliant" USB connectivity on Celviano digital pianos. This allows Celviano to be used with Mac or Windows computers without the need for downloading drivers. Class Compliant USB MIDI also allows Celviano digital pianos can also be used as a controller the Apple iPad simply with the use of Apple's Camera Connection Kit.
TECH SPECS
Specifications
AP-260
Keyboard
88 keys, weighted scaled hammer action, Tri-Sensor keys
Touch Response
3 Sensitivity levels / Off
Sound Source
AiR (Acoustic & intelligent Resonator)
" Multi-dimensional Morphing AiR Sound Source "
Acoustic Resonance
Yes
Polyphony (max)
128
Tones
18 new, enhanced tones
Reverb
4 types
Chorus
4 types
Brilliance
-3 ~ 0 ~ +3
Layer/Split
Yes
Lesson Function
Part on/off (lesson part right hand/left hand)
Duet Mode
Yes
Preset Songs
10 (Concert play) 60 (Music Library)
Metronome
Beats: 0 to 9 (Tempo range: quarter note: 20 to 255)
Transpose
2 Octaves(-12 semitones ~ 0 ~ +12 semitones)
Tuning Control
A4 = 415.5Hz ~ 440.0Hz ~ 465.9Hz
USB Storage (to PC)
Yes
Speakers
4.7" x 2"
Amplifier
8W + 8W
Recorder
2 Tracks x 1 song, approx. 5,000 notes maxium, real time recordings/playback
Other Functions
Grand piano button x 2 (Concert, Modern), Elec piano button, duet function, temperaments (preset scale): Equal + 16 other types, Auto power off: off after approx. 4 idel hours (Default setting), octave shift +/- 2 octaves, panel lock, slide-type keyboard cover
Terminals
USB
Yes (Type B)
Pedals
Built-in 3 pedals
Half-Damper pedal Operation
Terminals
Headphones (Standard stero jack) x 2, External power (12V DC)
Accessories
AC Adaptor
Yes (AD-A12150LW)
Pedals (Half-Damper pedal Operation)
Yes
Bench
Yes
Music Stand
Yes
Score Book
Yes
Dimensions and Weight
Unit size w/stand
54.2″ x 17.0″ x 33.1″ (w/o score stand)
Unit weight w/stand
87.1 lbs.
Boxed size
58.7" (W) x 22.6" D) x 19.5" (H)
Boxed weight
125.7 lbs.
Body Color/ Finish
Black wood tone and Walnut Finish
Specifications subject to change without notice.