WAVLINK USB 3.0 & USB C Universal Docking Station for Laptop
Wavlink – Bringing Technology to Life
Upgrade your Windows Laptop, Windows Desktop, Windows tablet (Except Windows RT), Mac, Macbook, Macbook Air Macbook Pro and more. Connect up to two additional monitors and nine accessories through a single USB cable. Backward compatible with most USB3.0/USB 2.0 PCs. Making it more effectively by connecting dock to other monitors, speakers, printers, external disk drivers and all of your other desktop USB peripherals. The Wavlink UG39DK7 allows you to do just that.
Chip from Displaylink

– DisplayLink is a chip and software company whose technology is used in products from the world's leading PC and peripheral brands. DisplayLink technology enables wired and wireless VR, monitors, docking stations, video adapters, and more.

– This item has DL-3900 chipset which made by Displaylink.

– Please go to dowbload the latest driver from displaylink: www.displaylink.com/downloads

Super Strong Performance
-HDMI Output- Support Resolutions up to 2560×1440
-DVI Output- Support Resolutions up to 2048 x 1152
-VGA Output ( through DVI to VGA converter )- Support Resolutions up to 1920×1080
-5.1 Channel surround sound through HDMI interface
-Primary / Extend / Mirror Video Mode
-Maximum Expandable up to 6 Display units.

Features

-4 x USB 3.0 transfer speed up to 5 Gbps

-2 x USB-C 3.1port support 5Gbps data transfer and 5V/3A charging(such as cell phone and tablet.

-Earphone & Mic combo audio sockets, a classical entertainment style come for you.

-Gigabit Ethernet coming with a RJ-45 port over 10/100/1000Mbps speed, you can quickly download large files, stream movies, and more.
System requirement
Processor: 1.2GHz or faster with support SSE2
RAM: 2GB for 1 DisplayLink display. 4 GB or more recommended for 2 or more DisplayLink displays
USB: At least one USB 2.0 or USB 3.0 port.
– DisplayLink software can be used on PC's and available for PCs running operating systems
Support:
-Windows XP ( 32-bit)/ Vista /7 / 8 / 8.1 / 10
– Mac OS 10.6 to 10.13.3.
-2015 and later Chromebooks
-Android 5.x Tablet or Smartphone
Not Compatible With: Macbook 10.13.4, Windows XP (64-bit ) and Surface RT, Linux, Unix, Mac OS X 10.5.x Leopard and lower.
Notes:
– 2560×1440 output only available when using a single HDMI display. If dual displays are connected, each will be limited to a maximum resolution of 1920×1200. 2560×1440 output requires a "High Speed" HDMI cable.
-Faster charging function is available when PC is on sleep mode or the device is disconnected to PCs.
-2.4Ghz wireless devices such as wireless keyboard/mouse receivers, Bluetooth and WiFi adapter do not work in the USB3.0 ports, please try to connect the USB2.0 ports.
-Does not provide power attached to host laptop or tablet; the host system will still require its power cable/charger.
Multi-function interface introductionBetter Connection for the Better Performance, It's perfect for anyone who wants to expand their connectivity in virtually any environment or application.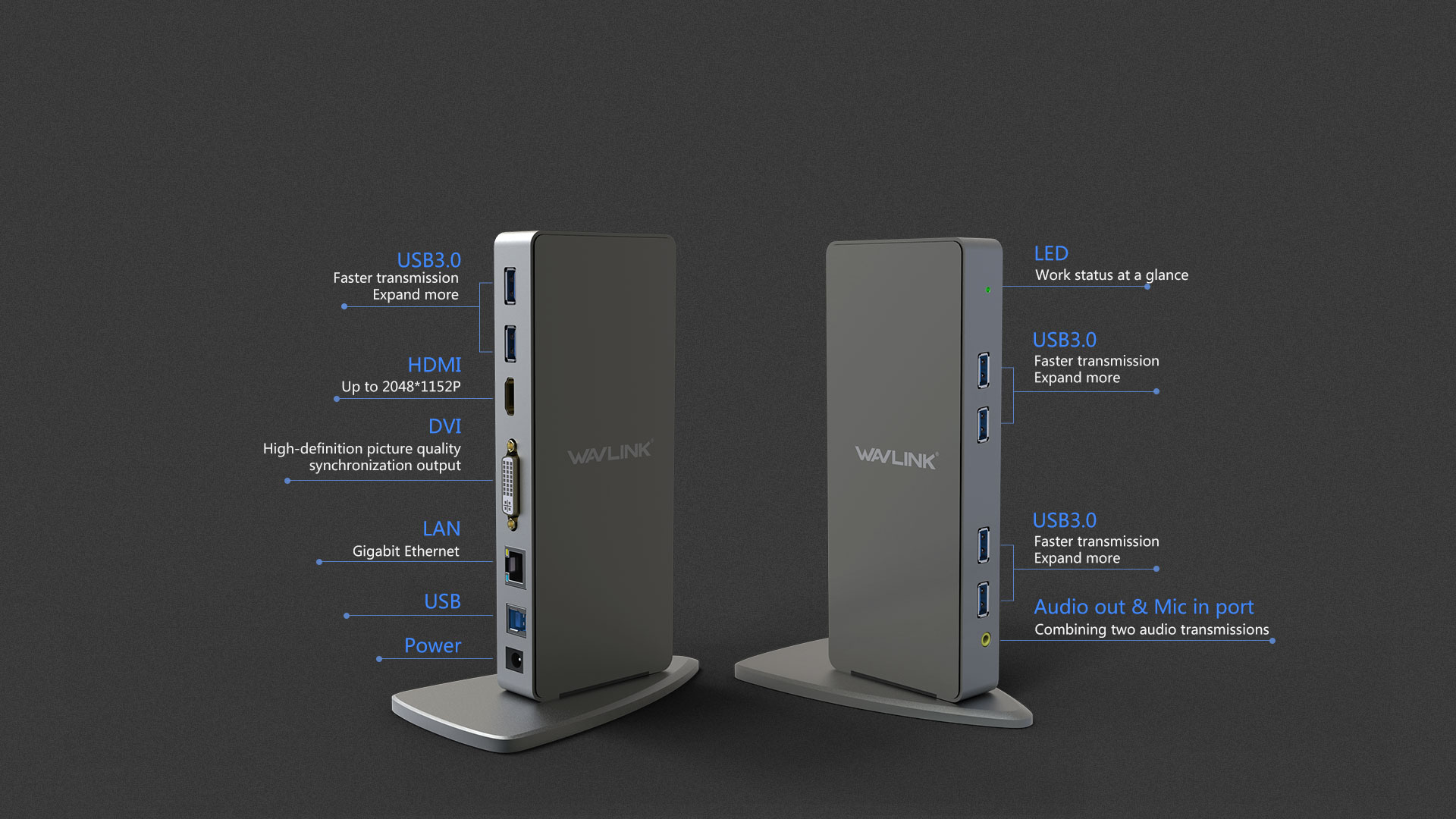 Four USB3.0 Ports, Two USB-C PortsSolve the scarcity of computer USB interface, avoid the damage caused by the repeated insertion and extraction of precious original interfaces.