Blackmagic Design ATEM Production Studio 4K Live Switcher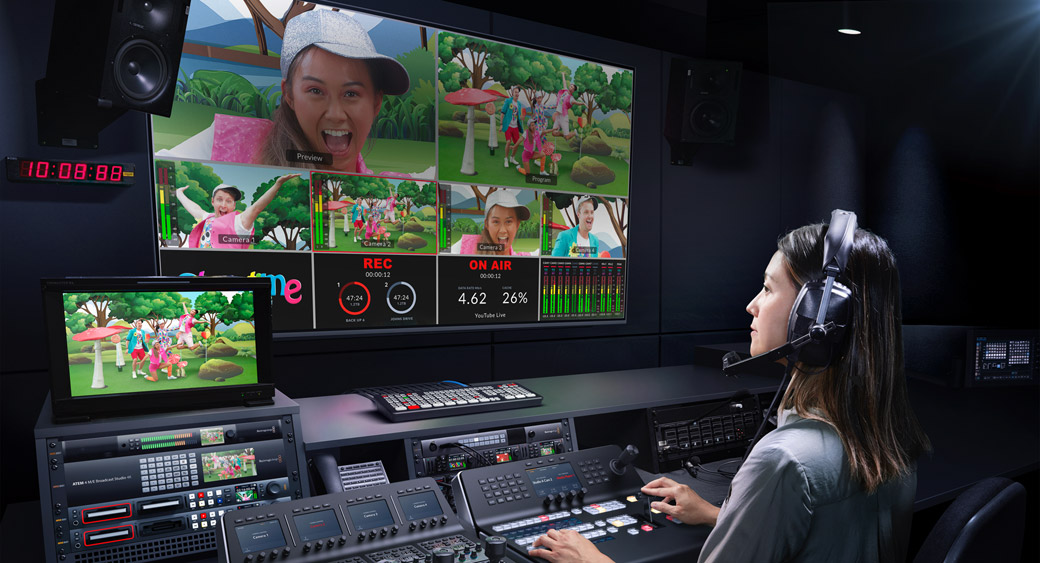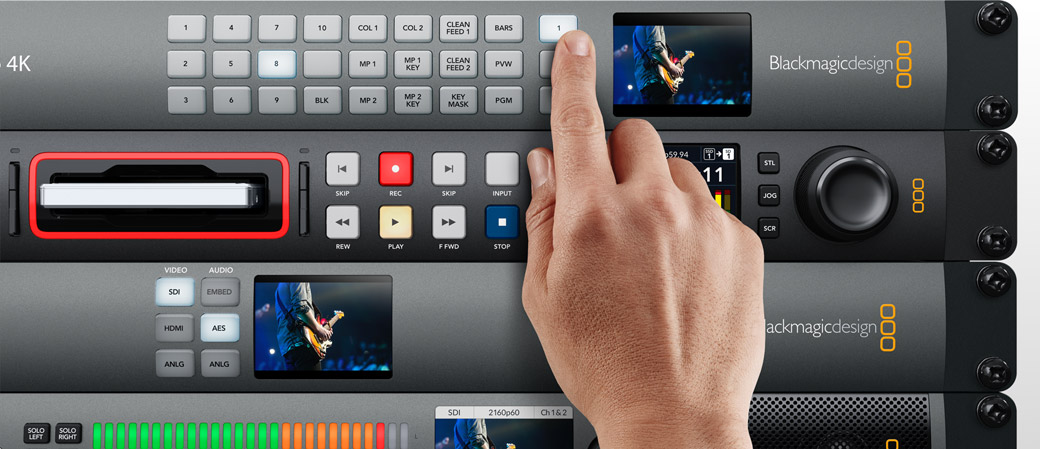 The world's first Ultra HD 4K live production switcher!
Now you can create stunning live multi camera productions at 4 times the resolution of 1080HD! ATEM Production Studio 4K lets you connect up to 8 SD, HD or UltraHD 4K video cameras, disk recorders and computers for true broadcast quality work. It includes all the features you expect from a professional switcher including chroma key, transitions, media pool, downstream keyers, audio mixer, multi view and the world's first 6G-SDI and HDMI 4K video connections.
Professional Live Coverage
Advanced technology and powerful features
Push the standards of live content production beyond broadcast quality! Ultra HD 4K cameras, projectors and super large screens at live events are new opportunities for content creation. With ATEM Production Studio 4K you can mix live programming and output at Ultra HD 4K resolution
for an incredible audience viewing experience. With this single rack unit digital production switcher you can work in SD, HD or Ultra HD 4K and turn any live music event, sporting event, theater show, church service, conference and more into an amazing live television production!
Incredible Ultra HD 4K
Unbelievably clear images of your live production!
Ultra HD 4K is 4 times the resolution of 1080HD video at a massive 3840 x 2160 frame size! The new super fast 6G-SDI and HDMI 4K video connections effortlessly handle Ultra HD 4K so you can easily connect to equipment using a single cable! Even when operating in Ultra HD 4K every video input includes a frame synchronizer so you can plug in cameras or computers that don't have genlock, and you also get a down converted HD-SDI output for monitoring or other use! All the professional features of the ATEM Production Studio 4K like built in media players, downsteam keyers, upsteam keyer, transitions and color generators operate in Ultra HD 4K so you get a true native Ultra HD 4K solution.
Elegant and Compact Design
The ATEM Production Studio 4K features an elegant machined aluminum front panel that includes buttons to select sources for auxiliary output and a built in LCD that shows the live status of this output. This hardware auxiliary control is a fantastic monitoring tool that lets you set up jobs fast, and is contained in a 1 rack unit design that's less than 6 inches deep! With built in high quality connections for all video and audio there is no need for additional breakout cables, plus the internal power supply is compatible with 110V to 240V sources so you can take your production switcher anywhere in the world!
Software and Hardware Control
ATEM Production Studio 4K includes the beautifully designed ATEM Software Control Panel for both Mac and Windows that gives you complete control of your switcher from a laptop or desktop computer! You get full control of transitions, keyers, audio mixer and switcher settings, with keyboard shortcuts that let you work faster and more efficiently. If you prefer to work with a hardware control panel then you can optionally add an ATEM Broadcast Panel for super fast professional switching! There's even a developer SDK included!
Advanced 6G-SDI and HDMI 4K Inputs
ATEM Production Studio 4K can be switched between SD, HD and Ultra HD 4K, so it connects to a wide range of HDMI and SDI cameras! You get 4 6G-SDI and 4 HDMI 4K inputs for up to eight simultaneous live inputs. All inputs feature frame
resynchronizing, so you can use cameras without a genlock, or even computer sources such as Keynote™ or PowerPoint™ presentations! Also included are 2 balanced XLR audio inputs and HiFi audio input for connecting professional and consumer audio equipment.
Loads of Outputs
There are six video outputs, including three program, two multi view and one independent auxiliary output! Use the program and auxiliary outputs to connect to giant outdoor LED screens, projectors, monitors and easily switch between SD, HD and Ultra HD 4K video formats, using 6G-SDI and HDMI 4K. The multi view has HD-SDI and HDMI outputs and the built in audio mixer output is embedded into all SDI and HDMI video outputs as well as on two balanced XLR analog audio outputs.
Multi View Monitoring
The built in multi view lets you monitor the switcher's video inputs on a single SDI monitor or HDMI TV! Even when operating in Ultra HD 4K you can still use a commonly available HD monitor or television because the multi view output will automatically detect the monitor and down convert to HD. Multi view makes it easy to watch your program, preview, 6 live inputs and 2 media players side by side. You can also add custom labels that make it easy to identify each input!
Creative Transitions
Get the same high quality transitions found on regular high definition professional switchers, that now all operate in Ultra HD 4K. Use mix, dip and wipe effects for impressive broadcast quality live switching! Every transition is instantly available and you get full control of the transition type, pattern, length and other attributes. There's also a choice of wipe patterns that let you create a customized 'on air' look to suit the style and content of your production.
Internal Media Players
ATEM Production Studio 4K includes 2 built in media players that can store up to 20 full resolution Ultra HD 4K still frames with key and fill. All popular image formats, such as PNG, TGA, BMP, GIF, JPEG and TIFF are supported. You can load media players with lower third name straps, logos and more, all of which can be recalled in an instant! ATEM includes a Photoshop Plug-in that lets you instantly download graphics and titles from Photoshop directly into the ATEM media pool!
Perfect Quality Keying
For the sharpest, most incredible looking effects, ATEM Production Studio 4K features fully digital broadcast video quality. You get 10-bit color precision combined with the incredible resolution of Ultra HD 4K, so you get the sharpest keying. The upstream keyer includes independent chroma, pattern, shaped and linear keying so you can create stunning visual effects. You also get 2 downstream keyers for logos, titles and a wide range of other 'on air' graphics. This powerful set of keyers lets you create true professional broadcast quality live production!
Audio Mixer
With built in audio mixing you can use embedded HDMI and SDI audio from your cameras and other video signals as well as external audio from the analog XLR and HiFi audio inputs, without the need for a separate audio mixing desk. You can use the mixer for direct input mixing or audio follow video where the audio automatically crossfades when switching from one input to another. The additional analog audio inputs are great for microphones, audio mixers or music players.
Independent Auxiliary Output
ATEM Production Studio 4K features an independently controllable auxiliary (aux) output that can be fed by any of the switcher's sources or internal signals. The front panel buttons and LCD make it easy to select sources such as "clean feeds" that can be output before the downstream keyer and exclude logos and other graphics. The auxiliary output is fantastic for driving large screens and projectors used on stage at live events where you may want an alternative feed to the main program output!
Software Control Panel
For the ultimate in portability you get a beautifully designed ATEM Software Control Panel for both Mac and Windows included free with ATEM Production Studio 4K. ATEM Software Control Panel gives you a full visual switcher control panel and parameter pallets for quick switcher adjustments, plus you can also load graphics into the media pool, perform audio mixing and update settings. The ATEM Software Control Panel is compatible with MACKIE™ protocol control panels for live audio mixing with flying faders! You can work easily in small spaces with full control of all the switcher's features!
Professional Broadcast Panels
When you want fast direct control of your switcher during extremely busy live production, it's easy to add an optional dedicated hardware ATEM Broadcast Panel to your switcher. ATEM Broadcast Panels feature the highest quality buttons, knobs and controls for the most demanding 24/7 live production environment, giving you hands on control of inputs, transitions, keyers and much more. The ATEM 2 M/E Broadcast Panel connects directly via Ethernet and includes a loop through connection so you can control more than one ATEM Production Studio 4K for a multi M/E switcher!
Extreme Reliability
ATEM Production Studio 4K uses an aviation quality operating system to provide the mission critical reliability that's demanded in broadcast and live production situations. Unlike cheap computer based switchers that interrupt the video if the computer crashes, ATEM doesn't have this problem because the computer is only the control panel! With ATEM you still have video output so your live event is protected from computer failure. Simply use other control panels or restart your computer without any interruption to the program!
Blackmagic Design SWATEMPSW04K
Standards
Ultra HD Support
SDI
3840 x 2160p 23.98/24/25/29.97/30HDMI: Computer Input Resolutions
3840 x 2160 23.98/24/25/29.97Hz
HD Format Support
SDI
720p 50/59.941080i 59.94
1080i 50/59.941080p 23.98/24/25/29.97/50/59.94HDMI: Computer Input Resolutions
1280 x 720 50/59.94Hz
1920 x 1080 50/59.94Hz
SD Format Support
SDI
NTSC: 525/29.97 – 4:3/16:9
PAL: 625/25 – 4:3/16:9HDMI: Computer Input Resolutions
720 x 480 59.94 Hz
720 x 576 50Hz
SDI Compliance
SMPTE 259M, 292M
Connectivity
Video Inputs
4 x SDI (10-bit SD/HD/Ultra HD switchable)
4 x HDMI 4K(10-bit SD/HD/Ultra HD switchable)
Audio Input
Digital
8 x Embedded audio via SDI or HDMI
1 x AES/EBUAnalog
2 x XLR
2 x RCA
Sync Input
1 x SDI: Tri-Sync or Blackburst
Frame Synchronizer
8 x Internal frame synchronizers (all inputs)
Program Output
1 x SDI (10-bit SD/HD/Ultra HD switchable)
1 x HDMI 4K (10-bit SD/HD/Ultra HD switchable)
1 x SDI (HD-SDI only)
Auxiliary Output
1 x SDI (10-bit SD/HD/Ultra HD switchable)
Multi View Output
1 x SDI (HD-SDI)
1 x HDMI (HD)
Preview (PVW) Output
None
Quantity of Multi-Views
1
SDI Audio Output
2 Channels embedded into SDI output
Analog Audio Output
2 x XLR
Ethernet
1 x 10/100/1000 BaseT input. Allows direct connection between control panel and chassis, or via network
Serial Communication
None
Tally Output
Added via Ethernet connection

Note: GPI and Tally Interface product are optional and are not included

GPI
Added via Ethernet connection

Note: GPI and Tally Interface product are optional and are not included

Software Update
Using USB connection directly connected to Mac OS X or Windows computers. Includes ATEM Switcher Utility
Configuration
Set via ATEM Software Control Panel, excluding ATEM chassis IP address, which is set via the ATEM Switcher Utility connected via USB to chassis
Processing
Color Space Conversion
Hardware based, real time
Processing Delay
1 line
Video Sampling
4:2:2
Color Space
REC 601
REC 709
Color Precision
10-bit
Built-in Media Players
| | |
| --- | --- |
| Quantity | 2 |
| Channels | 2 x Fill and key total (1 per Media Player) |
| Still Image Capacity | 20 |
| Image Format | PNG, TGA, BMP, GIF, JPEG, and TIFF |
Multi-View Monitoring
Display
Minimum monitor resolution: 1366 x 768
Number of Windows
1 Multi-view display with 10 x windows for:
Preview
Program
8 x assignable displays
Tally
Red for program and green for preview indication

Note: requires optional Blackmagic Design GPI and Tally interface product

Window Source Labels
Yes
Front Panel Controls
| | |
| --- | --- |
| Buttons | Illuminated button control Aux output settings |
| LCD Display | 1 x 2″ LCD display of Aux output |
Control Panel
Software
ATEM Software Control Panel for both Mac and PC

Mac
OS x 10.7 Lion or later
OS x 10.8 Mountain Lion or later

Windows
Windows 7 64-bit
Windows 8 32/64-bit

Note: software included with purchase of ATEM Production Studio 4K

Hardware
ATEM 1 M/E Broadcast Panel
ATEM 2 M/E Broadcast PanelNote: hardware panels are optional not included
Extras
Keyers
1 x Upstream
2 x Downstream
3 x Linear/Luma
1 x Chroma
Generators
2 x Pattern
2 x Color
Power
Input Voltage
110/240 V AC, 50/60 Hz

Note: IEC power cord required, not included

Power Consumption
60W
Redundant Power
No
General
Temperature
Operating Temperature
32 to 104°F (0 to 40°C)Storage Temperature
-4 to 140°F (-20 to 60°C)
Relative Humidity
Up to 95%
Dimensions (HxWxD)
1.7 x 19.0 x 5.0″ (44 x 482 x 127mm)

1RU-sized unit with built-in rack mount ears

Weight
3.75 lb (1.7 kg)
Packaging Info
| | |
| --- | --- |
| Package Weight | 4.35 lb |
| Box Dimensions (LxWxH) | 19.1 x 7.4 x 3.5″ |