Sony HDR-PJ675 Full HD Handycam Camcorder with 32GB Internal Memory and Built-In Projector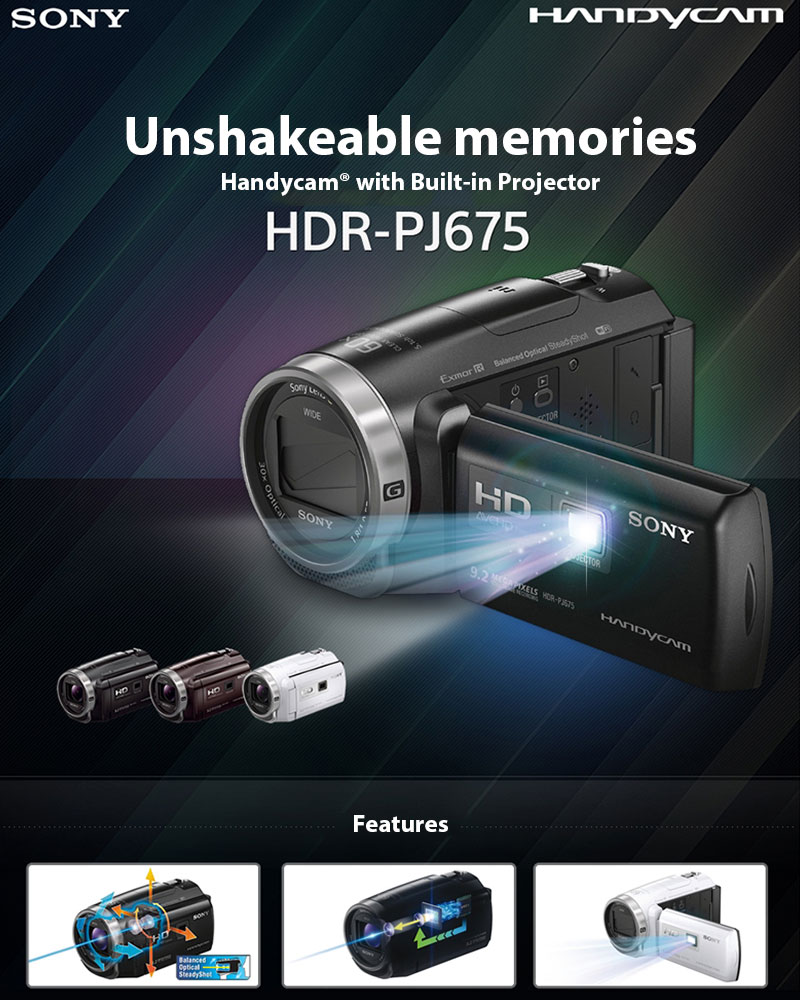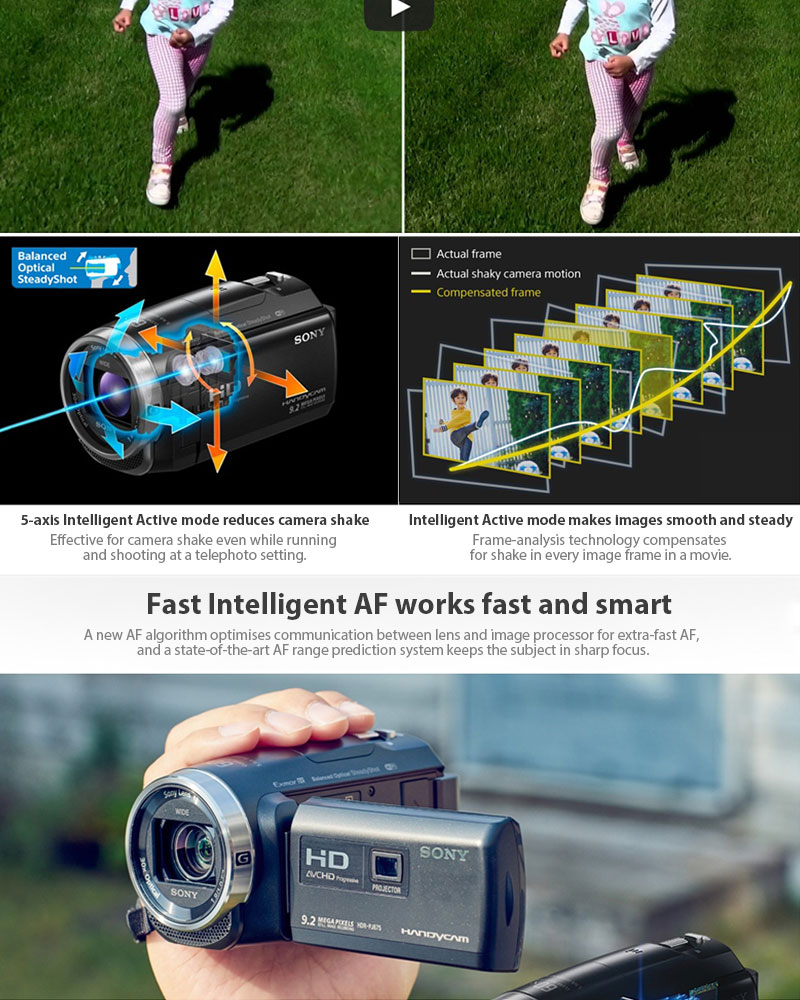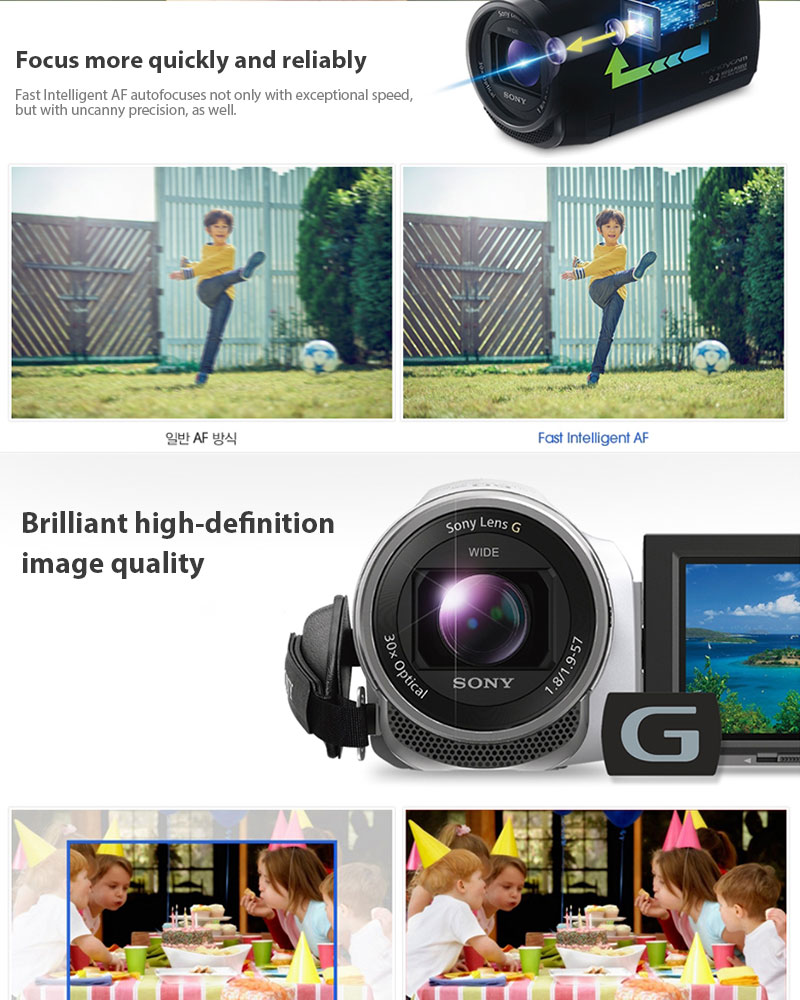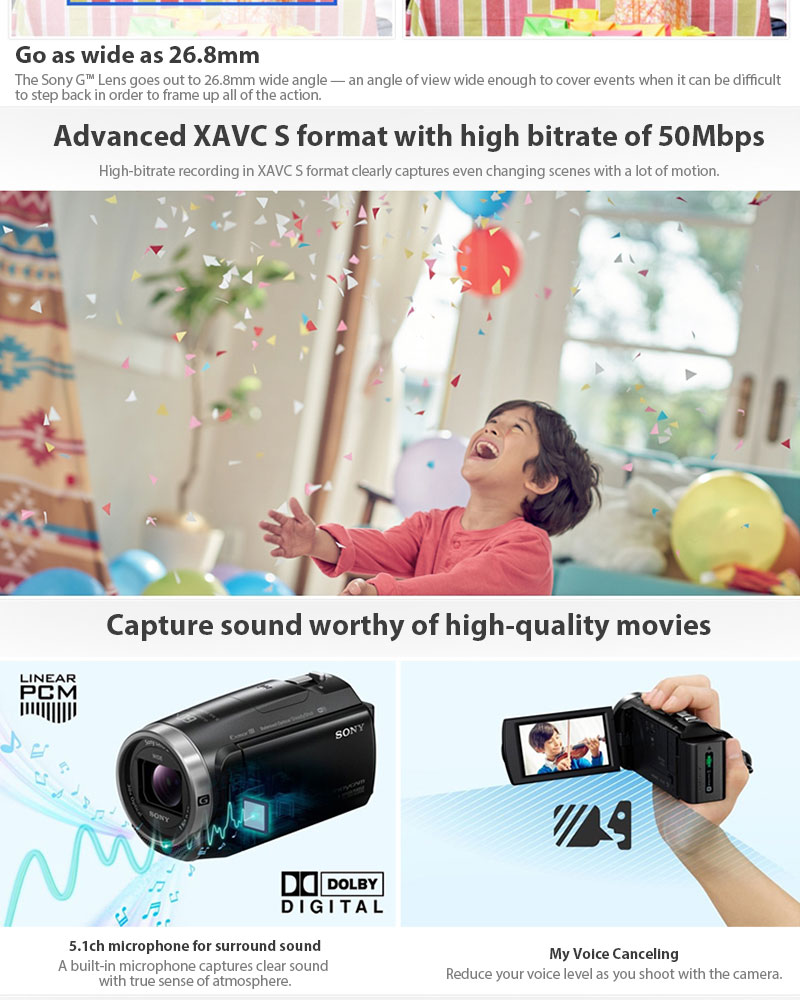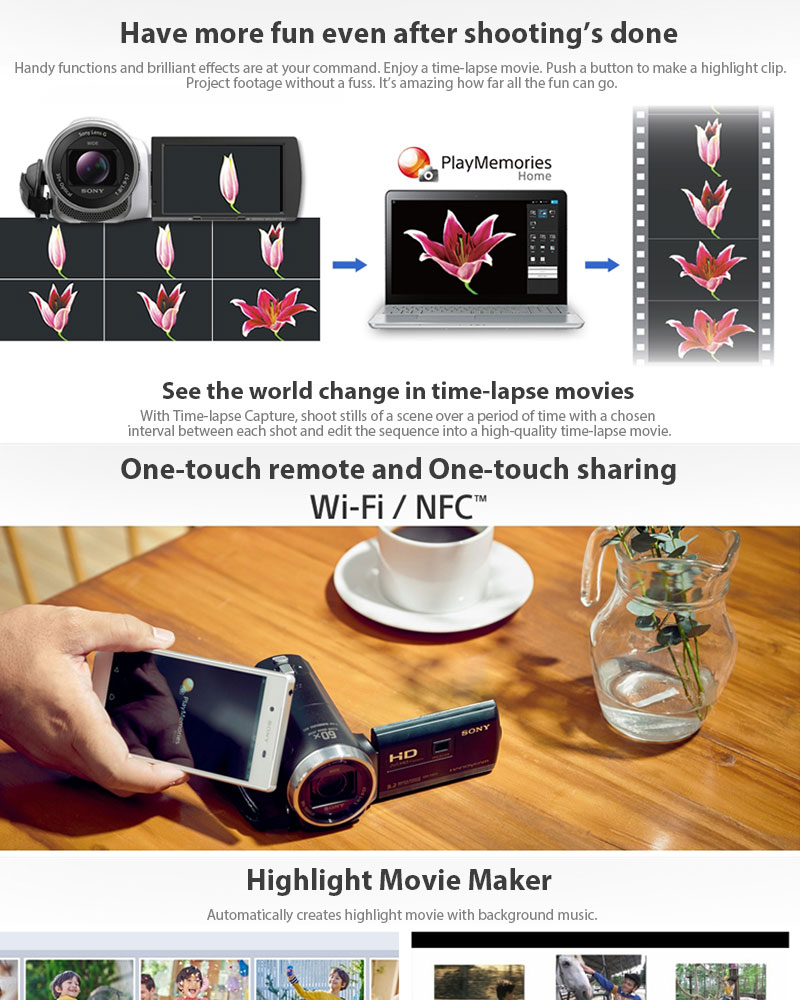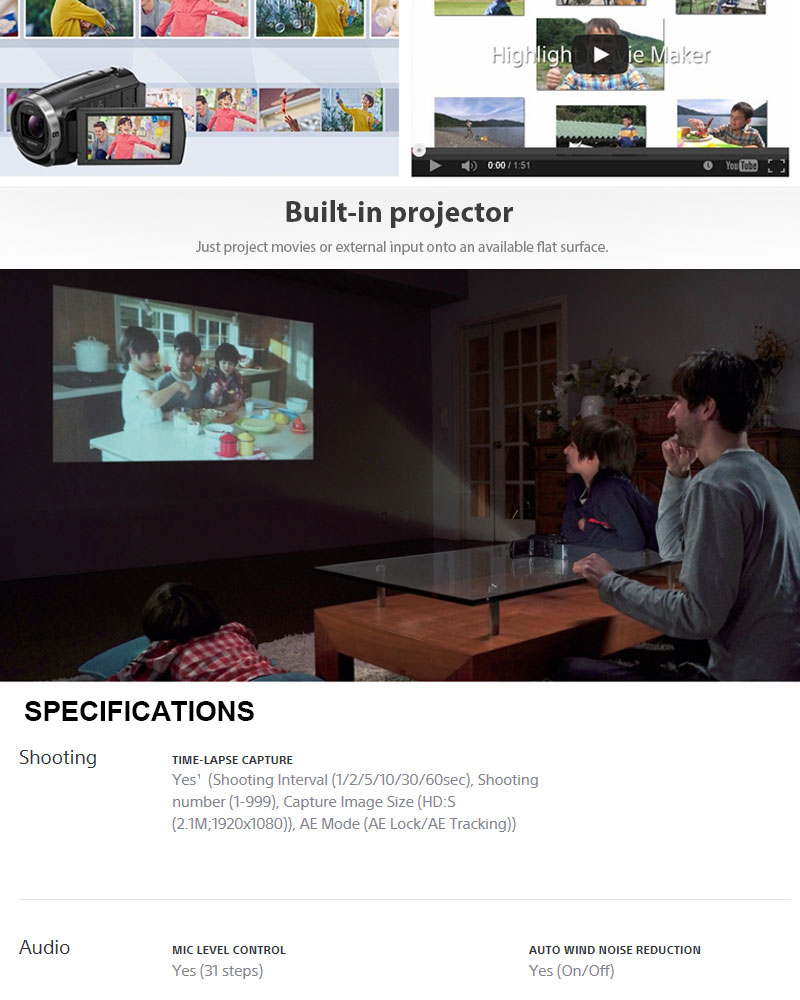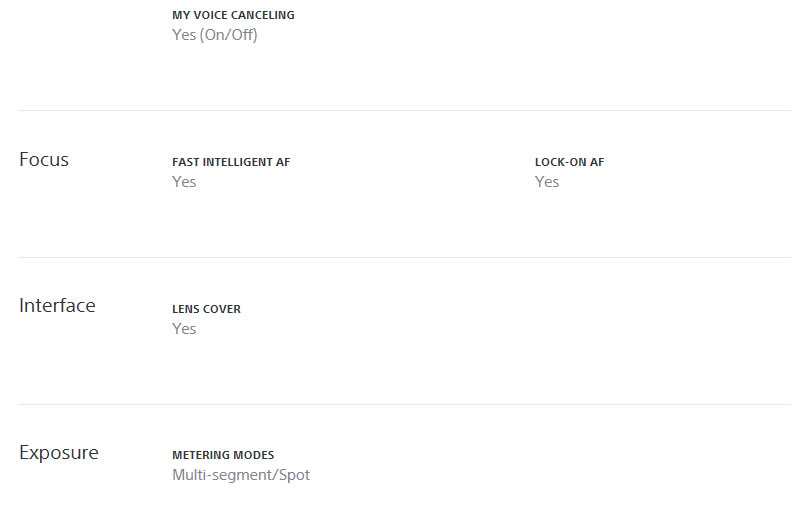 Balanced Optical SteadyShot — 5-axis Intelligent Active mode
Our advanced image stabilisation suppresses camera shake to stabilise a movie as it is being shot within the wide-angle-to-telephoto zoom range, even under unsteady conditions. 5-axis Intelligent Active mode compensates for vibration in five different directions, so you can shoot stable high-quality movies even while running.
Rapid AF response to capture decisive moments
Fast Intelligent AF achieves very speedy, accurate contrast-detection autofocus by minimising lens motion, predicting suitable AF range, and accelerating lens drive, thereby improving response so you can capture more fleeting moments.
Up to 26.8 mm wide-angle lens
Whether you're shooting movies or still images, the class-leading wide-angle lens can help you capture more of landscapes and indoor scenes, when you don't have enough room to step back. Even without a wide conversion lens, the camcorder shoots as wide as 26.8 mm 3 (16:9 aspect ratio) in movie mode.
Dual Video Recording
Record two movies at the same time – one in the maximum-quality XAVC S or AVCHD format and another in MP4 format. That way you've got a small file ready for instant sharing, plus a professional-grade file for further editing.
Highlight Movie Maker
A versatile function to streamline movie editing, Highlight Movie Maker offers several time-saving features. Add highlight points to key moments while recording, and let the camcorder automatically sync movie transitions to your chosen soundtrack.
Time-lapse Capture
You can capture still images continuously over an extensive period of time at a selected constant interval from each shot to the next, edit the entire sequence of still images in post-production, and enjoy playback of that series of images as a time-lapse movie.
Live Streaming via USTREAM
From performances to sports events, some things are best seen in real time. Share scenes as they happen with high-quality picture and sound.
One-touch remote and one-touch sharing
One-touch remote lets you use your smartphone or tablet as a viewfinder and remote control for a digital camera, and One-touch sharing lets you transfer your photos and videos from your camera. Either way, by installing PlayMemories Mobile app to your NFC-enabled Android smartphone or tablet, you can avoid complex set-up sequences and establish wireless connection simply by touching your device to the camera.
Built-in projector
Shoot and show footage with the same device. A built-in projector allows you to present your movie or other content, using the external input, on any flat screening surface.
Exceptional image quality
The high-bitrate XAVC S format 7 is for videographers ready to take their work to the next level. Delivering incredible quality, XAVC S is built from the XAVC format used by professional filmmakers and broadcasters, while employing intelligent data compression to export consumer-friendly file sizes.
Manual settings for iris and shutter speed
This camcorder gives you the freedom to choose manual settings for iris and shutter speed control, ideal for shooting under backlit and underexposed conditions as well as in other situations.
30x optical zoom
With a wide-angle lens that is ideal for capturing grand landscapes, the camera also provides 30x optical zoom and up to 60x 3 Clear Image Zoom for versatile image options.
My Voice Cancelling
Reduce the intensity of the voice of the user shooting from close behind the camera, whether the user is talking to subjects or cheering them on.
5.1ch surround sound microphone
Record clear sound that accurately captures the atmosphere of the scene, and enjoy surround sound playback on your home theatre system. Level meters on the LCD panel provide visual monitoring of each channel's levels.
Dual Rec
Dual Record mode enables you to shoot HD video and high-resolution still images simultaneously to capture the best shot in both ways.
Smile Shutter
Because great smiles are fleeting, this feature ensures they're never lost. Automatically capture snapshots of smiling faces, even while recording video.
Lock-on Autofocus (AF)
Enhances the tracking of moving subjects by using the optimal AF point at all times, and adjusting the target frame size to match your subject's characteristics. Just touch the subject on LCD to lock on fast-moving targets precisely for shooting.
Motion Shot Video
Motion Shot Video plays a sequence of superimposed images that trace recorded action in split-second intervals for you to analyse in detail on the LCD screen. During playback, you can adjust the interval or pause to capture and share a still image.
Picture Effect
Give free reign to your imagination. Picture Effect expands movie and photo enjoyment by letting you add up to seven creative effects (Partial Colour, Retro Photo, Soft High-key, High Contrast Mono, Toy Camera, Pop Colour, Posterisation) without troublesome editing on a computer.
Intelligent Auto
This feature automatically determines the type of scene being shot and optimises a combination of settings from three groups (Face, Scene, Camera shake). It provides the best results for up to 180 scene types 10, even at night and in backlit scenes. Selected settings are displayed as icons on the LCD screen for easy reference.
BIONZ X image processor
The advanced BIONZ X image processing engine helps achieve more naturally vivid and lifelike image quality as well as faster processing capabilities.
Exmor R CMOS sensor
This large, cutting-edge sensor enhances image clarity, reduces noise in dark environments and enables soft background defocusing.
Multi Camera Control
More shots mean more editing opportunities. Easily record footage from a variety of angles, whether using cameras mounted directly to the Handycam or triggered wirelessly. Multi Camera Control makes it easy to sync shooting settings on compatible Wi-Fi connected devices.
Progressive Recording
Clear movies, that contain twice the image data of movies recorded in interlace mode, can be recorded in Full HD at 60p / 50p (NTSC / PAL) in progressive recording mode. The images are as smooth as those shot at 60p / 50p (NTSC / PAL) frames per second, and each frame is recorded as one full picture. So a still captured from a movie recorded in progressive mode looks extra-sharp.
Auto Wind Noise Reduction
Using an advanced sound-analysis algorithm, this feature eliminates wind noise — the biggest culprit of bad outdoor audio.
9.2 MP still image capture
Sometimes you don't need –or want– video. Put your video camera in still image mode and capture amazing high-quality 9.2-megapixel single images as easily as you do with a still image camera.
Sony G Lens
At the heart of superlative optical performance, the Sony G Lens works in perfect harmony with the Exmor R CMOS sensor and BIONZ X processor. It's essential for realising the exquisitely detailed images that great memories are made of.
Direct Copy from Handycam
It's easy to back up and store image data to an external hard drive. Just connect the drive to the Handycam that originally contains the data by plugging the USB cable into the USB port of the hard drive.
Mic Level Control
For recording movies, you can fine-tune the microphone level to optimise quality of any sound input, from a quiet birdsong to a loud band performance. Even when the sound level increases suddenly, Auto Gain prevents
Sony HDR-PJ675 Specs
Camera
Sensor
1 x 1/5.8″ CMOS
Backside Illumination
Yes
Pixel Gross

Not specified by manufacturer

Effective Pixels
2.29 MP (16:9 Video)
2.29 MP (16:9 Photo)
1.71 MP (16:9 Photo)
Optics
35mm-Equivalent Focal Length
26.8 – 804 at 16:9
32.8 – 984 at 4:3
Maximum Aperture
f/1.8 – f/4
Minimum Focusing Distance
0.4″ / 1.0 cm
Zoom
Optical: 30x
Clear Image Zoom: 60x
Digital: 350x
Filter Size
46 mm
Recording
Recording Media
Internal Flash Memory (32 GB Maximum)
microSD/HC/XC, Memory Stick micro (Mark 2)
Video Format
1920 x 1080p at 24, 25, 50 fps (50 Mbps XAVC S)
1920 x 1080p at 50 fps (28 Mbps AVCHD)
1920 x 1080i at 50 fps (24 Mbps AVCHD)
1920 x 1080p at 25 fps (24 Mbps AVCHD)
1920 x 1080i at 50 fps (17 Mbps AVCHD)
1920 x 1080p at 25 fps (17 Mbps AVCHD)
1440 x 1080i at 50 fps (9 Mbps AVCHD)
1440 x 1080i at 50 fps (5 Mbps AVCHD)
1280 x 720p at 25 fps (3 Mbps MP4)
Still Image Resolution
JPEG: 9.2 Megapixel, 4032 x 2272 (16:9)
JPEG: 6.9 Megapixel, 3024 x 2272 (4:3)
JPEG: 2.1 Megapixel, 1920 x 1080 (16:9)
JPEG: .3 Megapixel, 640 x 480 (4:3)
Channels
5.1-Channel
Audio Format
AAC-LC
Dolby Digital 2ch
Dolby Digital 5.1
LPCM
Sampling Frequency
LPCM: 48.0 kHz
Bit Rate
LPCM: 16.0-Bit
Display
Display Type
LCD
Touchscreen
Yes
Screen Size
2.95″
Pixel Count
460,800
Aspect Ratio
16:9
Rotation
Opening Angle: 90°
Turning Angle: 270°
Projector
Native Resolution
640 x 360()
Brightness

Not specified by manufacturer

Contrast Ratio
1500:1
Throw Distance
0.5′ / 0.152 m
Projection Size

Not specified by manufacturer
Exposure Control
Shutter Speed
1/8 – 1/10000 Second ()
Exposure Metering
Multi, Spot
Exposure Modes
Modes: Auto, Manual
Interval Recording
1 Second
2 Second
5 Second
10 Second
30 Second
60 Second
Self-Timer
10 Seconds
Features
Image Stabilization
Optical
Scene Modes
Preset: Yes
Lux
3 (Low Lux, 1/25 shutter speed)
6 (Standard, 1/25 shutter speed)
White Balance Modes
Auto
Indoor 1
Onepush
Outdoors
Creative Effects
Yes
Built-In Mic
Yes
Built-In Speaker
Yes
Wi-Fi
Yes
Accessory Shoe
1x Multi Interface Shoe
Tripod Mount
1/4″ – 20
Input/Output Connectors
Inputs
1 x Micro-HDMI (Type-D) Projector
Outputs
1 x Micro-HDMI (Type-D)
1 x Multi-Terminal Micro-USB
Microphone Input
Yes
Headphone Jack
Yes
General
Battery
Rechargeable Lithium-Ion Battery Pack, 6.8 VDC, 1030 mAh
Charging Method
AC Adapter
USB
Power Consumption
In LCD Operation: 2.5 W
Dimensions (W x H x D)
2.3 x 2.6 x 5.1″ / 5.8 x 6.6 x 13.0 cm with supplied battery attached
Weight
12.7 oz / 360.0 g with supplied battery attached
Packaging Info
Package Weight
1.6 lb
Box Dimensions (LxWxH)
6.3 x 5.6 x 4.5″